The ChainSCANNER facilitates the manual inspection of pipes with outside diameters of 45 mm to 965 mm (1.75 in. to 38 in.), offering the possibility for two-axis encoding. The scanner, which is held by chain links instead of magnetic wheels, is able to inspect ferromagnetic or nonferromagnetic surfaces. The chain links also help ensure a straight displacement of the scanner by eliminating steering problems. Finally, it is useful when the area around the pipe is difficult to access as the scanner can be rotated around the pipe using the chain links.
Ứng dụng chính/Main applications:
Circumferential-pipe weld inspections with phased array, TOFD, or conventional UT
Corrosion mapping of small areas with phased array or conventional UT (using XY; 2 encoder models)
Tính năng/Features
Standard configuration using one or two probes and optional configuration using four probes for TOFD, phased array, or pulse-echo inspections.
Pipe range with outside diameters from 45 mm to 965 mm (1.75 in. to 38 in.)
Encoded manual scan on one or two axis (depend on the model)
Ergonomic handle to protect encoder connectors and provide cable management
Independent chain links mounted on bearings wheels coated with urethane for smooth rolling
Easy clamping device for quick scanner positioning
Spring-loaded probe holders ensuring good probe contact in any scanner position or orientation
The majority of adjustments can be made without the use of tools
Compatible with the OmniScan®, the TomoScan FOCUS LT™ (with optional adaptor), and other instruments using the appropriate encoder cable
Phụ kiện tiêu chuẩn/Standard Inclusions
Main module with a scan-axis encoder
Chain links for 5 in., 16 in., or 38 in. pipe OD (depending on model) with quick-release adjustable buckle
5 m encoder cable for OmniScan
450 mm (17.7 in.) probe-holder bar
Two spring-loaded probe holders with adjustable TOFD-P/E yokes
Two spring-loaded probe holders with adjustable phased array yokes
Probe-positioning system with lead screw adjustment
5 m divisible cable conduit (19 mm ID)
Irrigation tubes and fittings
CHAIN™ scanner tool
Carrying case
Note: Probes and wedges are not included with the scanner.
Optional accessories/Phụ kiện tùy chọn
ChainScan-A-4Probe
Extra part package needed to perform inspections with four probes on the CHAIN scanner.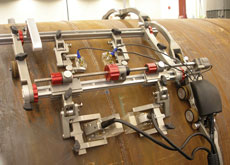 ChainScan-A-mouse
Extra part package needed in order to use the CHAIN scanner as a mouse scanner with magnetic-wheel holding system instead of chain links.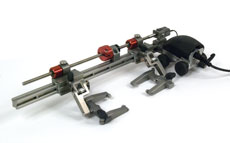 ChainScan-A-SBar
20 cm probe-holder bar and lead screw kit for confined space applications.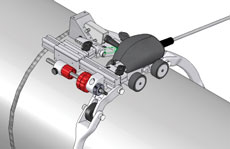 Thông số kỹ thuật/Specifications
Length in scan axis
(mm)
Width
(mm)
Height
(mm)
Weight
(kg)
114
75
84
1
Note: specifications above apply to the main module
Encoder resolution:
Circumferential (X) axis: 19.2 steps/mm
Longitudinal (Y) axis: 56.7 steps/mm
Thông tin đặt hàng/Ordering info
Lựa chọn bộ quét/Scanner Selection
| | | |
| --- | --- | --- |
| U8750041 | CHAINSCAN-XY38 | CHAIN Scanner-XY38: Hand scanner for pipe inspection with encoded X-axis and Y-axis for pipe outside diameters from 1.75 inches to 38 inches. Includes two spring-loaded arms, two yokes for TOFD/PE UT probes, two yokes for Phased Array probes, 5 m encoder cable for OmniScan, 5m divisable cable protection, irrigation tubes and fittings. Probes and wedges are not included. |
| U8779370 | ChainScan-SP-Basic | Basic spare part kit for the CHAIN scanner including: Lead screw and leaver for buckle , Wedge pivot buttons, Dovetail nuts, Specific tool, Plastic wheel, different types of wing screws and screws. |
Phụ kiện/Common accessories
| | | |
| --- | --- | --- |
| U8750037 | CHAINSCAN-A-MOUSE | Extra part package to allow using the Chain Scanner as a mouse scanner with magnetic wheels holding system instead of chain links. Includes: Front attachement part, brake handle, 4 magnetic wheels |
| U8775129 | CHAINSCAN-A-SBAR | 20cm long probe holder bar and screw kit for Chain Scanner |
| U8775128 | CHAINSCAN-A-4PROBE | Extra part package to allow inspection using 4 probes on the Chain Scanner. Includes: 2 side frame arms, one 450mm bar, 2 magnetic wheels, 2 handles, 2 TOFD yokes |
| U8775162 | CHAINSCAN-A-CABLE01 | CHAIN Scanner 5m long encoder cable with plastic cover handle |
Phụ kiện thay thế/Replacement parts
| | | |
| --- | --- | --- |
| U8775162 | CHAINSCAN-A-CABLE01 | CHAIN Scanner 5m long encoder cable with plastic cover handle |
| U8750042 | CHAINSCAN-A-LGLINK | Chain Scanner long link. Required on pipe OD greater than 9.6 in. |
| U8775127 | CHAINSCAN-A-SLINK | Chain Scanner short link. Required on pipe OD less than 9.6 in. |
| U8775128 | CHAINSCAN-A-4PROBE | Extra part package to allow inspection using 4 probes on the Chain Scanner. Includes: 2 side frame arms, one 450mm bar, 2 magnetic wheels, 2 handles, 2 TOFD yokes |
| U8775130 | CHAINSCAN-A-TOOL | Chain Scanner universal tool |
| U8775145 | ChainScan-SP-ENC | Chain Scanner encoder for longitudinal "Y" axis |
| U8775146 | Chainscan-A-LScrew38 | Chain Scanner 38cm lead screw to be used on the XY option with the longitudinal "Y" encoder |
| U8775161 | ChainScan-A-FBar550 | CHAIN Scanner 550mm long frame bar |
| U8775162 | CHAINSCAN-A-CABLE01 | CHAIN Scanner 5m long encoder cable with plastic cover handle |
| U8775167 | CHAINSCAN-A-KNOB | Removable thumb screw for Chain Scanner |
| U8775178 | CHAINSCAN-A-YCABLE1M | Extension cable for CHAIN scanner Y encoder. 1m long. |
| U8775189 | CHAINSCAN-A-PWHEEL | Plastic wheel for CHAIN Scanner and HydroFORM |
| U8775190 | CHAINSCAN-A-TRANSVERS | Bracket to pivot a CHAIN Scanner yoke from 0 to 90 deg. |
| U8775196 | CHAINSCAN-A-SWNOSE | Swivel nose to be installed on the front of a CHAIN Scanner. Suited to hold one probe holder bar and allow rotation allong the long axis of the bar. |
| U8775197 | CHAINSCAN-A-BAR-10cm | 10cm long probe holder bar for CHAIN Scanner. |
| U8775198 | CHAINSCAN-A-BUTTON-8mm | 8mm diameter button for CHAIN Scanner arm. |
| U8775199 | CHAINSCAN-A-BUTTON-5mm | 5mm diameter button for CHAIN Scanner arm. |
| U8775200 | CHAINSCAN-A-ARM-LD8mm | Large dropped arm sets for CHAIN Scanner with 8mm buttons. |
| U8775205 | CHAINSCAN-A-CRANK | Crank handle for Y axis indexation on CHAIN scanners. NOTE: Will only fit if the main red knob of the CHAIN Scanner has the mounting holes. If not, a "CHAINscan-A-MainKnob" must also be ordered. |
| U8775206 | CHAINSCAN-A-MAINKNOB | Main big red knob for Y axis indexation on CHAIN scanners. Features mounting holes for crank handle instalation. |
| U8775210 | CHAINSCAN-A-STABILIZER | Chain scanner arm stabilizer kit. Includes a magnetic wheel block and the holder to mount on the scanner arm. |
| U8775224 | CHAINSCAN-SP-CART | CHAIN Scanner main cart replacement module. Include X encoder, cart module and shafts. |
| U8775259 | CHAINSCAN-A-HANDLE | Handle for CHAIN Scanner. To be mounted on dovetail links or frame bar. |
| U8775261 | CHAINSCAN-A-ARM-LPA | Large, 63.5mm long arm sets for CHAIN Scanner with 8mm buttons for PA probe. IMPORTANT NOTE: Will fit on original thinker rear member with 17.8×10.6mm cross section. |
| U8775262 | CHAINSCAN-A-ARM-SPA | Slim, 63.5mm long arm sets for CHAIN Scanner with 8mm buttons for PA probe. IMPORTANT NOTE: Will fit on newer slim rear member with 17.8×10.6mm cross section. |
| U8775263 | CHAINSCAN-A-ARM-LUT | Large, 27.9mm long arm sets for CHAIN Scanner with 5mm buttons for UT probe. IMPORTANT NOTE: Will fit on original thinker rear member with 17.8×10.6mm cross section. |
| U8775264 | CHAINSCAN-A-ARM-SUT | Slim, 27.9mm long arm sets for CHAIN Scanner with 5mm buttons for UT probe. IMPORTANT NOTE: Will fit on newer slim rear member with 8.7×6.5mm cross section. |
| U8779370 | CHAINSCAN-SP-BASIC | Basic spare part kit for the CHAIN scanner including: Lead screw and leaver for buckle , Wedge pivot buttons, Dovetail nuts, Specific tool, Plastic wheel, different types of wing screws and screws. |
| U8779383 | CHAINSCAN-A-MWHEEL | Magnetic wheel for CHAIN Scanner and HydroFORM |
Bộ Chain Scanner cho kiểm tra mối hàn/Chain Scanner for Weld inspection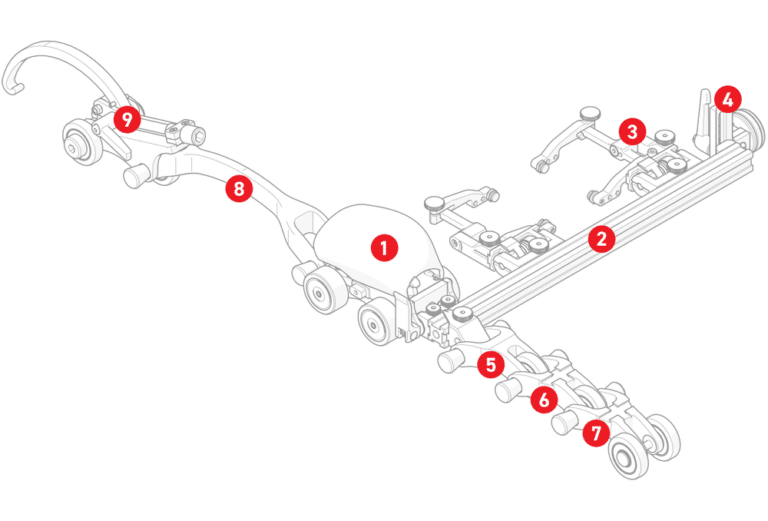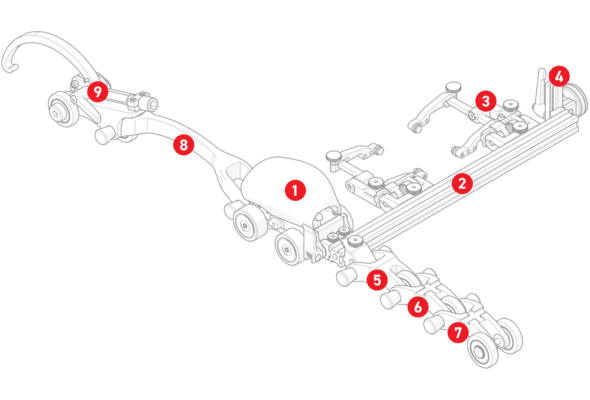 STT/No#
ID
Part number
Description
1
U8775224
CHAINSCAN-SP-CART

CART




The Chain Scanner cart is paired with urethane wheels for smooth, unobstructed motion upon scan surfaces.

CHAIN Scanner main cart module. Include X encoder, cart module and shafts.

2
U8775161
ChainScan-A-FBar550

FRAME BAR




45 cm (17.7 in) and 20 cm (7.9 in) frame bar lengths are included with this kit to facilitate various scanner configurations.

CHAIN Scanner 550mm long frame bar

3.1
U8775261
CHAINSCAN-A-ARM-LPA

SLIP JOINT PROBE HOLDERS




Maintain constant contact between the inspection surface and the probe with low profile, spring-loaded probe holders.

Large, 63.5mm long arm sets for CHAIN Scanner with 8mm buttons for PA probe. IMPORTANT NOTE: Will fit on original thinker rear member with 17.8×10.6mm cross section.

3.2
U8775262
CHAINSCAN-A-ARM-SPA
SLIP JOINT PROBE HOLDERS
Maintain constant contact between the inspection surface and the probe with low profile, spring-loaded probe holders.Slim, 63.5mm long arm sets for CHAIN Scanner with 8mm buttons for PA probe. IMPORTANT NOTE: Will fit on the newer slim rear member with 8.7×6.5mm cross section.
3.3
U8775263
CHAINSCAN-A-ARM-LUT
Large, 27.9mm long arm sets for CHAIN Scanner with 5mm buttons for UT probe. IMPORTANT NOTE: Will fit on original thinker rear member with 17.8×10.6mm cross section.Origin: CA
3.4
U8775264
CHAINSCAN-A-ARM-SUT
Slim, 27.9mm long arm sets for CHAIN Scanner with 5mm buttons for UT probe. IMPORTANT NOTE: Will fit on newer slim rear member with 8.7×6.5mm cross section.Origin: CA
4
U8775210
CHAINSCAN-A-STABILIZER

STABILIZER WHEEL




Maintain level and balance of the scanner with a magnetized stabilizer wheel.

Chain scanner arm stabilizer kit. Includes a magnetic wheel block and the holder to mount on the scanner arm.

5
U8775127
CHAINSCAN-A-SLINK

SHORT LINK




Various amounts of single wheel short links are included in each kit configuration.

Chain Scanner short link. Required on pipe OD less than 9.6 in.Origin: CA

6
U8150457
CHAINSCAN-SP-SHORTLINKDOVETAIL

CHAINSCAN-SP-SHORT

SHORT LINK WITH DOVETAIL




Utilize the short link with dovetail to mount accessories such as cable management to the chain system.

Chain Scanner Short link Dove tail.

7
U8150587
25AA2638

CATCH LINK




Works in conjunction with the buckle to mount the scanner to the pipe/tube.

Chain Scanner Catch Link

8
U8750042
CHAINSCAN-A-LGLINK

LONG LINK




Equivalent to (approx.) 3 short links, the long link is used for larger diameter scans.

Chain Scanner long link. Required on pipe OD greater than 9.6 in.

9
U8775276
25AA2249
BUCKLE


The buckle connects to the catch link to complete the chain system. Adjust the buckle to control the chain's tension around the pipe/tube exterior.

Buckle assembly for Chain Scanner