The world's smallest diameter videoscope with articulation*
2.4 mm diameter articulating scope

for very narrow spaces

The IPLEX TX enables you to make inspections inside parts where access is limited due to very narrow openings. Combining its clear images and outstanding durability, the IPLEX TX is the ideal videoscope for routine inspection of castings, molds, and other parts with small cavities.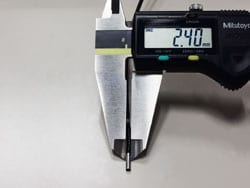 Ultra-thin, 2.4 mm diameter
At just 2.4 mm diameter, the flexible insertion tube reaches inside almost any narrow or difficult to reach area that requires reliable and uncompromising visual inspection for defects.
*As of November 1, 2013
Quick and accurate articulation
The IPLEX TX is a videoscope with the world's smallest diameter* and is equipped with an ergonomic, user-friendly scope articulation controller. The controller features excellent responsiveness and quickly and accurately navigates the scope tip inside narrow and intricate objects.
*As of November 1, 2013
Tough design optimal for frequent use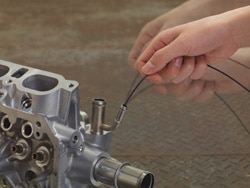 Unsurpassed abrasion resistance
The IPLEX TX insertion tube is protected with a special resin tube that features 200 times greater abrasion resistance than our conventional extra-thin fiberscopes. The durable insertion tube enables reliable inspections of casting and other metals that have rough surfaces.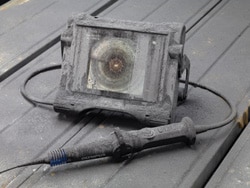 Ensured dust resistance
The IPLEX TX is both dust and drip proof, and is designed to comply with IP55. This durable unit can perform reliable inspections even in harsh manufacturing environments.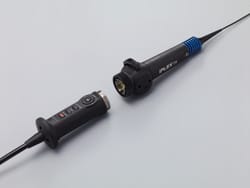 Interchangeable scope system
The IPLEX TX has an insertion tube that can be easily interchanged in the field.
Great advance in image quality
Exceptionally bright and clear images
Compared to conventional very small-diameter fiberscopes, the IPLEX TX delivers superior image quality. The videoscope's vivid and clear images increase the detection of abnormalities and improves inspection efficiency.
Precise image reproduction without halation
The unique image processing capability WiDER™ limits the halation effect that often occurs during inspections of metal objects. WiDER brings out details in shadow areas and produces much clearer, crisper images.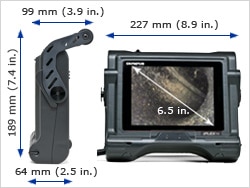 Large monitor, small body
The IPLEX TX is equipped with a 6.5 in. LCD monitor to clearly display tiny defects such as burrs and scratches.
The compact and portable body with an integrated Lithium-ion battery allows you to make inspections at any sites.
Efficient image management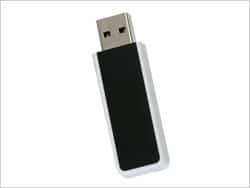 High-quality images and movies
Observed images can be recorded onto a removable USB flash drive as high-quality JPEG still images and MPEG-4 movies. The provided 1 GB USB flash drive can store approximately 3,400 still images or a 30-minute movie.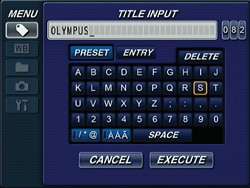 Title input function
For efficient image diagnosis and report generation, the IPLEX TX enables you to insert titles as well as date and time overlay.
Thông số kỹ thuật/Specification
Scope Unit
Model No.
IV8212T
Approximate weight
0.2 kg (0.4 lb)
Insertion tube
Scope diameter*1
ø2.4 mm (0.094 in.)
Scope length
1.2 m (3.9 ft)
Distal end*2
9.8 mm (0.386 in.)
Exterior
High durability resin tube with special processing
Tube flexibility
Uniformed stiffness
Optics
Direction of view
Forward
Field of view
80°
Depth of field*3
3 to 70 mm (0.12 to 2.75 in. )
Illumination
High-intensity white LED
Articulation section
Articulation angle
135° (Up/Down)
Articulation mechanics
Direct manipulation
*1. The insertion tube can be inserted into a 2.4 mm hole.
*2. Indicates the length of the rigid portion at the scope's distal end.
*3. Indicates the optimal focal distance.
Main Unit
Model No.
IV8200T
Approximate weight
1.7 kg(3.8 lb) (with battery or AC power adapter)
Dimensions (W x D x H)
227 mm x 64 mm x 189 mm (8.9 in. x 2.5 in. x 7.4 in.);
Maximum dimensions 239 mm x 99 mm x 215 mm (9.4 in. x 3.9 in. x 8.5 in.)
Handheld controller
Controllable functions
Live mode, WiDER™ Gain control, Brightness, Zoom, Freeze image, Record still/video, Articulation control, Articulation lock, Menu access, Saved recording index access, Quick last image recall.
Approximate weight
0.3 kg (0.7 lb)
Dimensions (W x D x L)
49 x 59 x 334 mm (1.9 x 2.3 x 13.2 in.)
LCD monitor
6.5 in. daylight-view LCD, anti-reflective type
Power supply
Battery: 10.8 V nominal
AC power: 100 V to 240 V, 50/60 Hz (with supplied AC adapter)
Output connector
RCA composite video output
USB connector
Type A connector, Version 2.0 standards
Software
manipulations
Image manipulations
Seamless digital zoom from 0.5x to 2x, 8-step digital brightness control
Adjustable gain control
3-step adjustable gain control with exclusive WiDER™ brightness level balancing technology
Display text options
30-character title display
Recording
management
functions
Recoding media
USB flash memory (1 GB standard, compatible with recommended USB flash device)
Overlay
Selectable 30 character title with date, time and system setting
Thumbnail image display
Recorded images can be displayed as thumbnails.
Still image recording
Resolution – NTSC: H640 x V480 (Pixel), PAL: H768 x V576 (Pixel)
Recording format – Compressed JPEG format
Size of a single image – Approximately 300 KB
(approximately 3,400 images per 1 GB memory)
Video recording
Resolution – H640 x V480 (Pixel)
Recording format – AVI MPEG-4 format. Can be played on the Windows Media Player.
Size of a single image – Approximately 500 KB per second
(approximately 30 min. per 1 GB memory)
Operating Environment
Operating temperature
Insertion tube
In air: -25 to 80 °C (-13 to 176 °F)
In water: 10 to 30 °C (50 to 86 °F)
Other parts
In air: -10 to 40 °C (-14 to 104 °F) (with battery)
0 to 40 °C (32 to 104 °F) (with AC power adapter)
Relative humidity
All parts
15% to 90%
Liquid resistance
All parts
Operable when exposed to machine oil, light oil or 5% saline solution.
Waterproofing
Insertion tube
Operable underwater up to a water pressure equivalent to a depth of 1.2 m.
Other parts
Operable in blowing rain conditions (battery compartment must be closed). Not operable under water.
Catalog download
Có tất cả 1 file, kích thước 1,2 MiB với 131 lượt tải trong mục IPLEX TX.
Hiển thị từ 1 tới 1 trong tổng số 1 file.

IPLEX TX Brochure
» 1,2 MiB - 131 hits - 1 Tháng Một, 2019
IPLEX TX Brochure