Bộ mã hóa Mini-Wheel chống nước và tương thích với máy quét HST-X04, cũng như các nêm PA tiêu chuẩn của Olympus được gắn bằng bộ kẹp đầu dò đi kèm. Bộ mã hóa kích thước nhỏ gọn này được làm bằng thép không gỉ và có các vòng bi kín để hoạt động trơn tru trong thời gian dài. Mạch điện tử tùy chỉnh đã được thiết kế để ngăn nhiễu cảm ứng từ tín hiệu UT.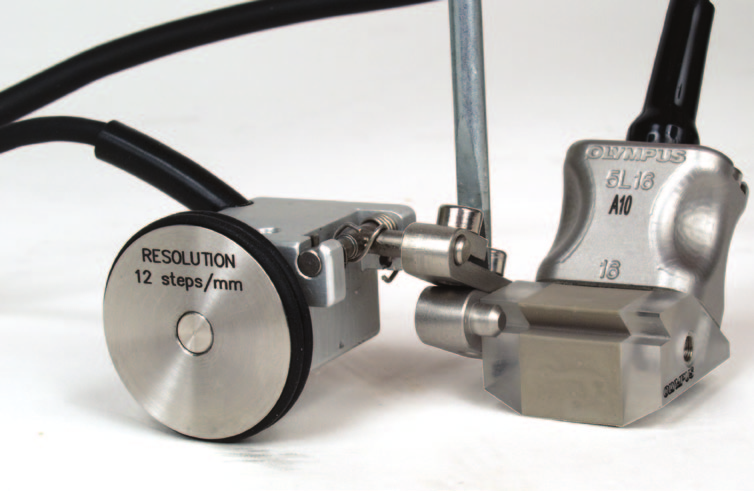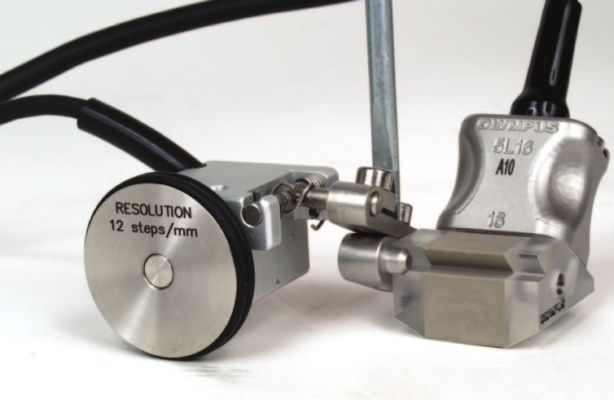 Tính năng/Features
Waterproof (IP68)
Stainless steel construction, resistant to harsh environments
Minimal noise induction
Small dimensions
Encoder resolution is engraved on the wheel (12 steps/mm)
Removable encoder wheel
Double O-ring tire for better adherence
Sealed bearing for long lasting smooth wheel rotation
Strain relief for cable protection
Spring-loaded pin for adaptable encoder attachment
2 M3 threaded holes on top of the casing for rigid attachment
DE version is compatible with the OmniScan® instrument
BX version is compatible with the TomoScan FOCUS LT™ instrument
LM version phù hợp với OmniScan MX2 và OmniScan X3
Tùy chọn/Options
Bánh xe từ/Magnetic Wheel
For maximum adherence of the wheel on ferromagnetic surfaces, a magnetic wheel is available.
KIT gá đầu dò bổ sung/Mounting Bracket Kit
Extra mounting bracket kit to mount MiniWheel encoder on wedge.
Nút chuyển/Indexer Clicker
Clicker to send the indexing signal needed for 2-axis inspections with only one encoder. The kit also includes a 3-to-1 splitter cable (with DE-15 connectors) enabling connection of the encoder, the Clicker, and a digital input source (DIN) to the OmniScan.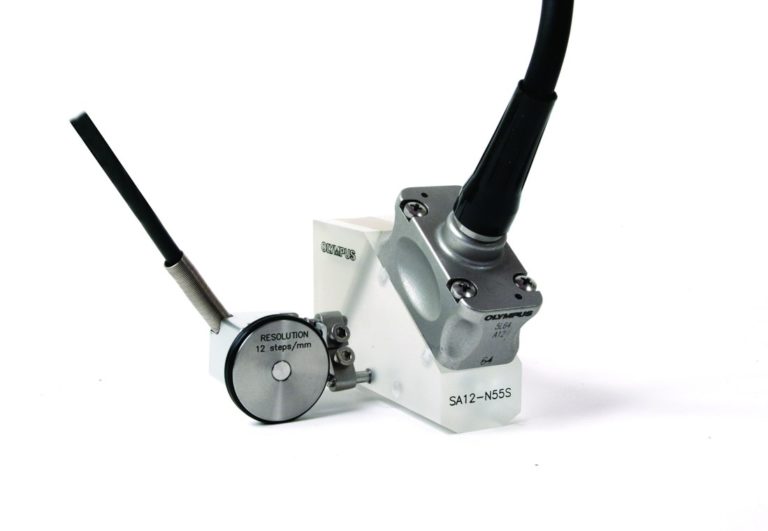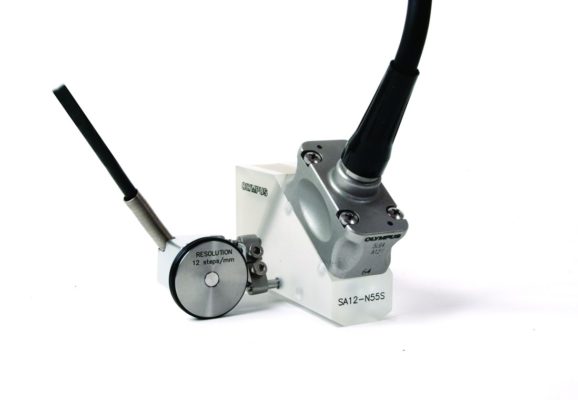 Specifications/Specifications

| | |
| --- | --- |
| A = 27 mm (1.06 in.) | D = 24.2 mm (0.95 in.) |
| B = 28.7 mm (1.12 in.) | E = 17.5 mm (0.69 in.) |
| C = 22.5 mm (0.89 in.) | F = 6 mm (0.23 in.) |
Sản phẩm bao gồm/Standard Inclusions
1 encoder with standard rubber wheel
1 mounting bracket kit
1 hexagonal key screwdriver for bracket attachment
Carrying case
Mã đặt hàng/Ordering info
ENC1-2.5-DE
ENC1-5-DE
ENC1-2.5-BX
ENC1-5-BX
ENC1-2.5-LX
ENC1-5-LX
Download

Mini-Wheel Encoder (441.8 KiB, 562 hits)