The Olympus 27MG is an affordable line of ultrasonic thickness gauges designed to take precise measurements from one side on metal pipes, tanks and other equipment that are corroded or corroded from the side. in. The device weighs only 340 g and ergonomic design for easy one-handed operation. Despite its compact size, the 27MG has many innovative measuring features using the same technologies found on our more advanced thickness gauges. The 27MG is durable, rugged, battery-operated, and features a large, backlit LCD display with easy-to-read digits and an intuitive color-coded keypad that provides direct access to many key features.
Standard features include Automatic probe identification to ensure optimal transducer performance, Zero compensation automatically to improve measurement accuracy on high temperature surfaces, Sensitivity Adjustment for improved measurement on sound attenuating materials such as cast metal, Differential Measurement Mode, Hi-Low Alert setting and Min/Max record minimum or maximum thickness at 20 measurements measure every second.
27MG is designed for inspectors and maintenance engineers who need to monitor the wall thickness of metal pipes, tanks, beams and structural supports that are susceptible to corrosion on internal surfaces. Ultrasonic thickness gauges provide a quick, cost-effective solution by using ultrasound that is transmitted to the material from the outside, without damaging the part to be measured.
Transducers/Transducers
The 27MG comes standard with the low-cost D7910 dual-element transducer that allows you to measure thickness for a wide variety of basic corrosion applications. For measurements on very thin or thick materials, or small diameter tubes, Olympus offers a full range of dual element transducer line or Specialized KIT for corrosion testing of extremely thin parts. The 27MG compatible Olympus probe features Automatic probe identification helps optimize transducer performance by automatically recalling the default V-path calibration.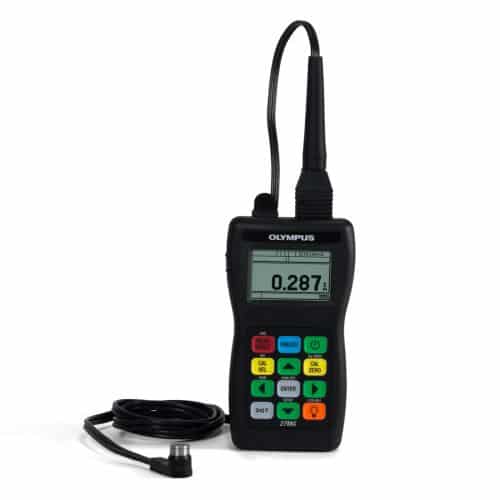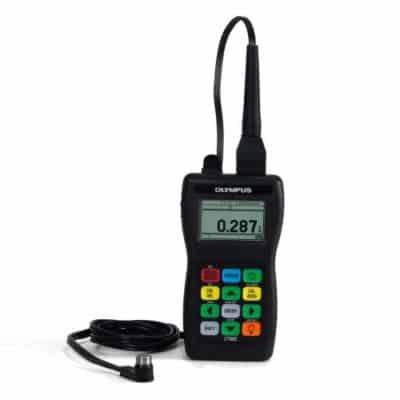 Transducers with Automatic Probe Recognition
27MG is compatible with dual element transducers for every application.
Transducer
Item Number
Freq. (MHz)
Connector
Tip Diameter mm (in.)
Range (Steel)* mm (in.)
Temp. Range** C (ºF)
Cable
Item Number
D7910
U8454038
5.0
90°
12.7
(0.500)
1.00 to 254
(0.040 to 10.00)
0 to 50
(32 to 122)
Potted
  ¯
D790
U8450002
5.0
Straight
11.00
(0.434)
1.00 to 50000
(0.040 to 20,000)
-20 to 500
(-5 to 932)
Potted
¯
D790-SM
U8450009
Straight
LCMD-316-5B†
U8800353
D790-RL
U8450007
90°
LCLD-316-5G†
U8800330
D790-SL
U8450008
Straight
LCLD-316-5H
U8800331
D791
U8450010
5.0
90°
11.00
(0.434)
1.00 to 50000
(0.040 to 20,000)
-20 to 500
(-5 to 932)
Potted
¯
D791-RM
U8450011
5.0
90°
11.00
(0.434)
1.00 to 50000
(0.040 to 20,000)
-20 to 400
(-5 to 932)
LCMD-316-5C
U8800345
D792
U8450012
10
Straight
7.20
(0.283)
0.50 to 25.00
(0.020 to 1,000)
0 to 50
(32 to 122)
Potted
¯
D793
U8450013
90°
Potted
¯
D794
U8450014
5.0
Straight
7.20
(0.283)
0.75 to 50.0
(0.030 to 2,000)
0 to 50
(32 to 122)
 Potted
¯
D797
U8450016
2.0
90°
22.9
(0.900)
3.80 to 635.00
(0.150 to 25,000)
-20 to 400
(-5 to 752)
Potted
¯
D797-SM
U8450017
Straight
LCMD-316-5D
U8800355
D7226
U8454013
7.5
90°
8.90
(0.350)
0.71 to 50.00
(0.028 to 2,000)
-20 to 150
(-5 to 300)
Potted
¯
D798-LF
U8450019
D798
U8450018
7.5
90°
7.20
(0.283)
0.71 to 50.00
(0.028 to 2,000)
-20 to 150
(-5 to 300)
Potted
¯
D798-SM
U8450020
Straight
LCMD-316-5J
U8800357
D799
U8450021
5.0
90°
11.00
(0.434)
1.00 to 50000
(0.040 to 20,000)
 -20 to 150
(-5 to 300)
Potted
¯
MTD705
U8620225
5.0
90°
5.10
(0.200)
1.00 to 19.00
(0.040 to 0.750)
0 to 50
(32 to 122)
LCPD-78-5
U8800332
*Depending on material, probe, surface condition, temperature the measuring range may vary.
**Maximum temperature based on intermittent exposure conditions.
†Cable with stainless steel sheath for added durability is reported separately.
Specifications
Measurements
Dual element transducer measurement mode
Time interval from a precision delay after the excitation pulse to the first echo
 
Thickness range
0.50 mm to 635 mm (0.020 in. to 25.0 in.) depends on material, transducer, surface conditions, temperature
 
Material velocity range
0.508 mm/μs to 18.699 mm/μs (0.020 in./μs to 0.7362 in./μs)
 
Resolution (selectable)
Low: 0.1 mm (0.01 in.)
Standard: 0.01 mm (0.001 in.)
 
Transducer frequency range
2.25 MHz to 10 MHz (–3 dB)
General
Operating temperature range
-10 °C to 50 °C (14 °F to 122 °F)
 
Keypad
Sealed, color-coded keypad with tactile and audible feedback
 
Case
Impact-resistant and water-resistant, gasketed case with sealed connectors. Designed for IP65.
 
Dimensions (W x H x D)
84.0 mm x 152.4 mm x 39.6 mm (3.31 in. x 6.0 in. x 1.56 in.)
 
Weight
340 g (12 oz)
 
Power Supply
3 AA alkaline batteries
 
Battery life operating time
150 h of typical battery life, 30 h continuous use with backlight
 
Explosive Atmosphere
Safe operation as defined by Class I, Division 2, Group D, as found in the National Fire Protection Association Code (NFPA 70), Article 500, and tested using MIL-STD-810F 511.4 Procedure I
 
Standards
Designed for EN15317
 
Alarm mode
Programmable Hi/Low set points with audible and visual indicators
display
Display Hold/Blank mode
Holds or blanks the display after measurements
 
Backlight
Electroluminescent backlight, Selectable as On or Auto On
 
Receiver bandwidth
1 MHz to 18 MHz (–3 dB)
 
Metric/English mode
Metric or English units
 
Display languages
English, French, German, Spanish, Italian, Portuguese, Russian, Polish, and Swedish
Standard accessories
27MG digital ultrasonic thickness gage
Dual element transducer
AA alkaline batteries
Test block and couplant
Carrying case
Wrist strap
User's manual on CD
Getting started Guide
Measurement features: Min./Max. mode, Differential mode, Gain Adjust Freeze mode, Automatic Probe Recognition, Zero Compensation
Accessories are subject to change without notice. Please contact VISCO for more details.
Optional accessories
2214E (U8880014): 5-step test block, English units
2214M (U8880016): 5-step test block, metric units
27MG/RPC (U8780343): Protective rubber boot with Neck Strap and Gage Stand
When using the product for high-temperature applications or when testing on curved surfaces, additional accessories such as remote probe holder, curved surface adapter and contactors can be consulted. high temperature.