Thiết bị quay video tốc độ cao iSpeed 7
Nắm bắt nhiều hơn cả các chuyển động. Áp dụng những sáng tạo của công nghệ máy ảnh tốc độ cao từ Olympus, chúng tôi xin giới thiệu sản phẩm i-SPEED 7 Series với tốc độ quay nhanh hơn 400 lần so với tốc độ HD 1080p chuẩn. Hãy khám phá một dòng máy quay mạnh mẽ, cao cấp được thiết kế phù hợp với nhiều ứng dụng. Chỉ có một cách để nắm bắt các sự kiện nhanh nhất trên thế giới, với độ phân giải cao nhất, sử dụng chiếc camera nhanh nhất từng được biết đến.

i-SPEED 716
5,315 fps @ 2048×1536 1080p
Max Frame Rate: 500,000 fps
Memory: 36 / 72 / 96 / 144 / 192 / 288GB
i-SPEED 720
6,642 fps @ 2048×1536 1080p
Max Frame Rate: 750,000 fps
Memory: 72 / 96 / 144 / 192 / 288GB
i-SPEED 726
8,512 fps @ 2048×1536 1080p
Max Frame Rate: 1 million fps
Memory: 96 / 144 / 192 / 288GB

Tốc độ cao nhất | Độ phân giải tốt nhất | 8,512 fps @ 2048×1536 | 1080p HD trên 12,500 fps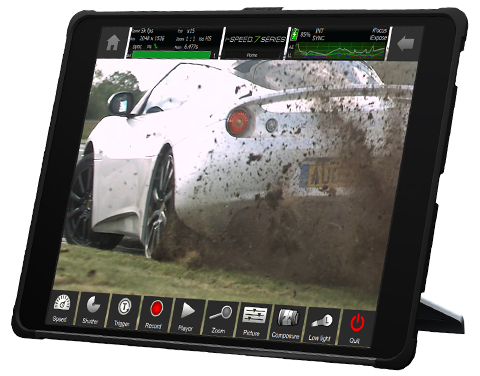 Live Camera Control at Your Fingertips
iX Cameras continues the Olympus i-SPEED tradition of designing a unique Control Display Unit (CDU) for our cameras. Now with the i-SPEED 7, we introduce the first touchscreen CDU version — the CDUe — for the utmost in portability and ease-of- use at the camera. The CDUe application software is designed in layers. Make a quick recording, save images to the internal or external SSD and playback slowly with just a few touches. For more demanding applications, the CDUe helps you focus, set exposure, record and playback with a wide range of powerful options. The bright display allows camera users to 'frame and aim' at the camera — no more towing around laptops or looking at large TV displays to optimize focus and position. No other camera provides portable control like the i-SPEED 7 with a CDUe.
10.8″ high-resolution LCD touchscreen CDUe monitor
Intuitive, compact and easy-to-use software application
Change settings, frame rate and shutter speed, then record and instantly view the action at any speed
Save to internal or external swappable SSDs for fast, efficient saving and maximum up-time
Includes i-FOCUS and i-EXPOSE for optimal focus and setting of your optics
Innovative Low Light mode lets you easily switch between recording mode and setup mode
Set cameras to record in loop mode, then trigger internally, externally or automatically
PC Control Software Sets new Standard
We designed innovative new software for the 7 Series — the i-SPEED Software Suite 2.0. The i-SSS2 software is based on feedback from our users regarding their workflow and processes. The suite comes with multiple 'applications' optimized for whether you are working directly with one camera, multiple cameras, multiple cameras with the optional DAQ hardware modules, or working at your desk doing editing, motion analysis or presentations. Modern, modular and user configurable, the new Control and Control Multi-DAQ let you create image-based test environments for easy setup of your cameras and DAQ hardware. Make quick measurements at the camera, or for more extensive motion analysis, we have bundled ProAnalyst® by Xcitex — the premier motion analysis software on the market. i-SPEED Movie Maker lets you quickly create movies from your high-speed videos, with fades, watermarks, ramps, titles and more. The applications work elegantly together for a truly revolutionary setup, test and data acquisition experience.**ProAnalyst and i-SPEED Movie Maker available with Premium bundle.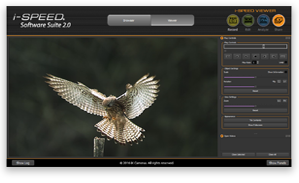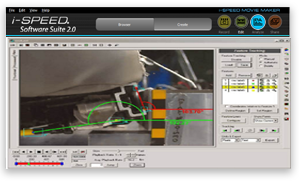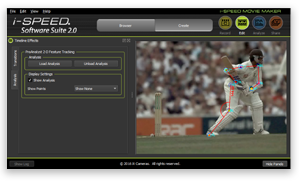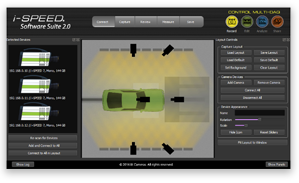 Optional Ruggedized Case
If your application requires you to take your i-SPEED 7 outside the laboratory, select the rugged package. Machined from solid aluminum, the rugged package is High-G rated for shock and designed to keep moisture away from the electronics inside. The rugged package also has a removable handle and multiple attachment holes for hanging, use with booms, and insertion into enclosures and chambers.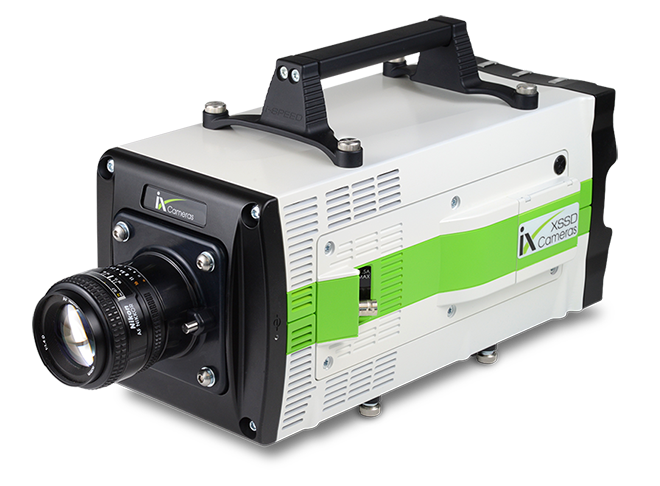 规格
Hình ảnh
| | |
| --- | --- |
| Sensor type: | Custom CMOS |
| Sensor resolution: | 2048×1536 pixel |
| Sensor size: | 27.972mm x 20.736mm |
| Sensor diagonal: | 34.82mm |
| Pixel size: | 13.5 μm |
| Bit depth: | 12bit, 10 bit, 8 bit |
| ISO: | Mono 5000/40000Color 1800/14400 |
| Maximum Frame Rate: | 1,000,000 fps |
| Shutter type: | Global Exposure |
| Shutter time, standard: | 1μs minimum |
| Shutter time, fast mode: | 250ns |
| WDR: | Wide Dynamic Range |
Kích thước vật lý
| | |
| --- | --- |
| Dimensions inches: | 14.3" (W) x 6.2" (H) x 6.2"(L) |
| Dimensions mm: | 363 (W) x 157 (H) x 154 (W) |
| Weight: | 18.7lb (8.5kg) with battery |
| Input Voltage: | 12-36V |
| Power Consumption: | 150w Nominal, 200w Max |
| Mounting: | 1/4×20 and 3/8×16 tripod plate |
| Battery: | 2x 14.4v 90Wh |
| Battery life: | 1 hour |
| Lens mount: | Custom lens plate |
| EMC: | CISPR22 (BS EN55022),CISPR24(BS EN55024) |
| Safety: | BS EN61010-1 |
| CE Marking: | EMC Directive (Camera), LV Directive, EMC Directive (PSU) |
| Lead Free: | RoHS Directive |
| WEEE: | Compliant |
| IP Rating: | IP 20 |
| Temperature: | 32°F to 104°F operation,-4°F to 140°F storage |
| Temperature: | 0°C to 40°C operation,-20°C to 160°C storage |
| Pressure: | 71 kpa to 106 kpa |
| G-shock,Instrumentation package: | 10G |
| G-shock,Rugged package: | 30G @ 11ms IEC 68-2-27 Ea,30G @ 2ms IEC 68-2-29 Eb |
| Power input connector: | 6pin Lemo |
| Trigger input: | BNC 75ohm |
| Feature input: | 18pin Lemo, Trigger in / Sync in / Sync out / Exposure out / Remote power |
Đồng bộ và lưu dữ liệu
| | |
| --- | --- |
| Trigger: | TTL T0 to 0-100% |
| Trigger modes: | Circular, ROC, BROC |
| Sync: | 24Hz – 500kHz |
| Luminance histogram: | Iris setting aid tool |
| iCHEQ 360: | Camera status LEDs |
| iFocus: | Focusing aid tool |
| iExposure: | High/low exposure highlight |
| Control: | PC or CDUe |
| IRIG Input: | IRIG – B to sub 2μs |
| IRIG Sync: | Camera sync to IRIG |
| Internal Memory: | 36GB, 72GB, 96GB, 144GB |
联系
| | |
| --- | --- |
| Video outputs: | 2x HD-SDI, HDMI |
| USB: | USB 2 |
| Network: | 1GB RJ45 |
| CDUe: | BNC 75ohm |
| Video: | AVI (JPG, BMP), HSV |
| Image sequence | TIFF, BMP, JPG, RAW |
| Ethernet control | 1GB |
| Remote control | Via supplied software |
Phần mềm máy tính
| | |
| --- | --- |
| Standard Control: | Control ONE |
| Premium Control: | Control MULTI-DAQ |
| Editing: | i-SPEED Movie Maker |
| Analysis: | ProAnalyst® Lite by Xcitex |
| Viewer: | i-SPEED Viewer |
| Utilities: | i-SPEED Lens Calculator, i-SPEED Viewer |
| Software Developers Kit: | C++, LabView |
| Synchronized data acquisition: | USB DAQ, 8 options |
Tùy chọn
Sensor:
Color / Mono
Memory:*
36GB / 72GB / 96GB / 144GB / 192GB / 288GB
Shutter time:
1000ns (std) / 289ns (upon request)
Internal SSD:
500 GB / 1TB
External SSD:
250 GB / 500 GB / 1 TB
Lens mounts:
F mount (Nikkor D) / F mount (Nikkor G) C mount / EF mount
Package Type:
Instrumentation / Rugged
Warranty:
1 yr (std) /2 yr / 3 yr
*Options vary based on model
2 x HD-SDI
HDMI
USB 2
CDUe control (BNC 75ohm)
Trigger (BNC 75ohm)
1Gb RJ-45 Ethernet
6 pin Lemo Power
18 pin feature input
(Trigger, Sync in / out, Exposure, Remote Power)