Bộ quét thủ công 1 trục/Manual One-Axis Scanner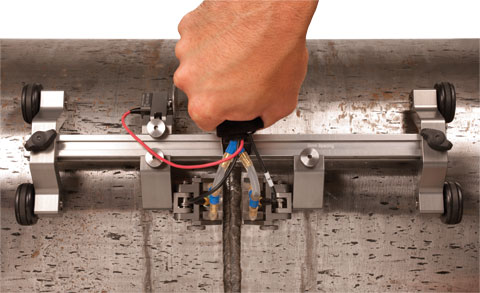 The new HST-Lite scanner is the perfect choice for cost-effective, one-channel TOFD inspections when signal quality is important. The combination of magnetic wheels and spring-loaded probe holders offer the stability required to perform high quality, one-line inspections. The scanner can be operated using only one hand, and will attach to ferromagnetic surfaces even when in an upside-down position.
The scanner's position can be encoded around the circumference of pipes as small as 4.5 in. (114.3 mm) OD, as well as on flat surfaces. Adjustment of the different scanner components can be performed without tools.
Tính năng kỹ thuật/Features
Circumferential scans performed with two TOFD probes on pipes 4.5 in. (114.3 mm) OD, or greater.
Four magnetic wheels firmly attach the unit to ferromagnetic inspection surfaces.
Light aluminum frame.
Independently positioned and spring-loaded probe holders.
Waterproof, spring-loaded encoder with 9 step/mm resolution.
Removable handle for lower profile.
Attachment devices for umbilical cables.
The frame design enables probes to be positioned outside the wheels (2 additional magnetic wheels are required).
Engraved references on the scanner and pointer on the probe holders ensure easy probe separation measurement.
Thông số/Specification
Chiều dài theo trục quét/Length in Scan Axis (mm)
Rộng/Width (mm)
Cao/Height (mm)
Trọng lượng/Weight (kg)
125
385
100*
1.3
*67 mm khi không có tay cầm/without handle
Bộ tiêu chuẩn/Standard Inclusions
Scanner frame with handle.
Four magnetic wheels.
OmniScan-compatible, waterproof, spring-loaded wheel encoder with 5 m cable.
Two spring-loaded arms (SLA) with TOFD-P/E yokes (31.75 mm wide with 5 mm diameter buttons).
Irrigation tubing and accessories.
Cable conduit.
Carrying case.
Ghi chú/Note:

Đầu dò và Nêm không kèm theo sẵn/Probes and wedges are not included with the scanner.
Bộ quét HST-LITE có thể lắp tối đa 1 cặp đầu dò TOFD và 1 đầu dò PAUT/The HST-Lite scanner can not accommodate more than 1 pair of TOFD and one PA probe.
Tùy chọn/Options
Scanner Accessories
Part number
description
U8775278
HST-Lite-A-Handle
Extra handle compatible with HST-Lite scanner to enable two hands scanning.
U8775279
HST-Lite-A-PH-TOFD
Cặp tay giữ đầu dò TOFD (2 chiếc) phù hợp với bộ quét HST-LITE. Tay giữ rộng 31.75mm và dài 23.5mm với chốt giữ 5mm.

Extra pair of spring loaded probe holders for TOFD inspection compatible with HST-Lite scanner. Yokes are 31.75mm wide and 23.5mm long with 5mm buttons.

U8775293
HST-LITE-A-PH-PA-LEFT
Một càng giữ đầu dò Phased Array tương thích với HST-Lite scanner cho đầu dò bên trái. Càng giữ được kèm với chốt giữ loại 8mm phù hợp với đầu dò Phased Array. Chi tiết có thể được lắp để sử dụng với cả đầu dò trái và phải.

One Phased array probe holder compatible with HST-Lite scanner.

U8775277
HST-Lite-SP-ENC
Bộ mã hóa vị trí Encoder cho HST-LITE. Kết nối sử dụng giắc cắm DE-15 với cáp dài 5m.

Spare encoder for HST-Lite scanner. Comes with OmniScan compatible DE-15 connector and 5m long cable.

U8779383
CHAINSCAN-A-MWHEEL
Magnetic wheel for CHAIN Scanner and HydroFORM
U8775189
CHAINSCAN-A-PWHEEL
Plastic wheel for CHAIN Scanner and HydroFORM
U8767107
C1-DE15F-BXM-0.30M
12 in. long adapter DE-15 Female to Bendix Male linking DE-15 encoder cable to Focus LT.
U8779089
HSMT-A-BRK5682
Bracket kit to mount Panametrics 5682 preamplifier on HSMT scanners.
U8775282
KITX0340
Irrigation tubes and fittings for HST-Lite.Same content as in the basic HST-Lite scanner package
U8775001
WTR-SPRAYER-8L
Couplant-Feed Units
U8775278
HST-Lite-A-Handle
Extra Handle
U8775161
ChainScan-A-FBar550
HST-LITE Scanner 550mm long frame bar. Can be cut in to shorter ones for restricted space inspection application.
U8775277
HST-Lite-SP-ENC
Replacement Encoder