Strength comes from flexibility
Bends and elbows are susceptible to damage from impacts such as accelerated flow corrosion (FAC), but inspecting them is challenging because the shape of elbows varies from convex to concave as well as different pipe diameters. When combined with water wedges, this solution can be used to collect data on elbow and pipe bends with Diameter from 4.5 in. OD and more with many advantages:
Scan 100% pipe elbow
Intuitive C-scan 2D images
High density acquisition data (1 mm × 1 mm)
Measure, test, map fast corrosion elbow wall thickness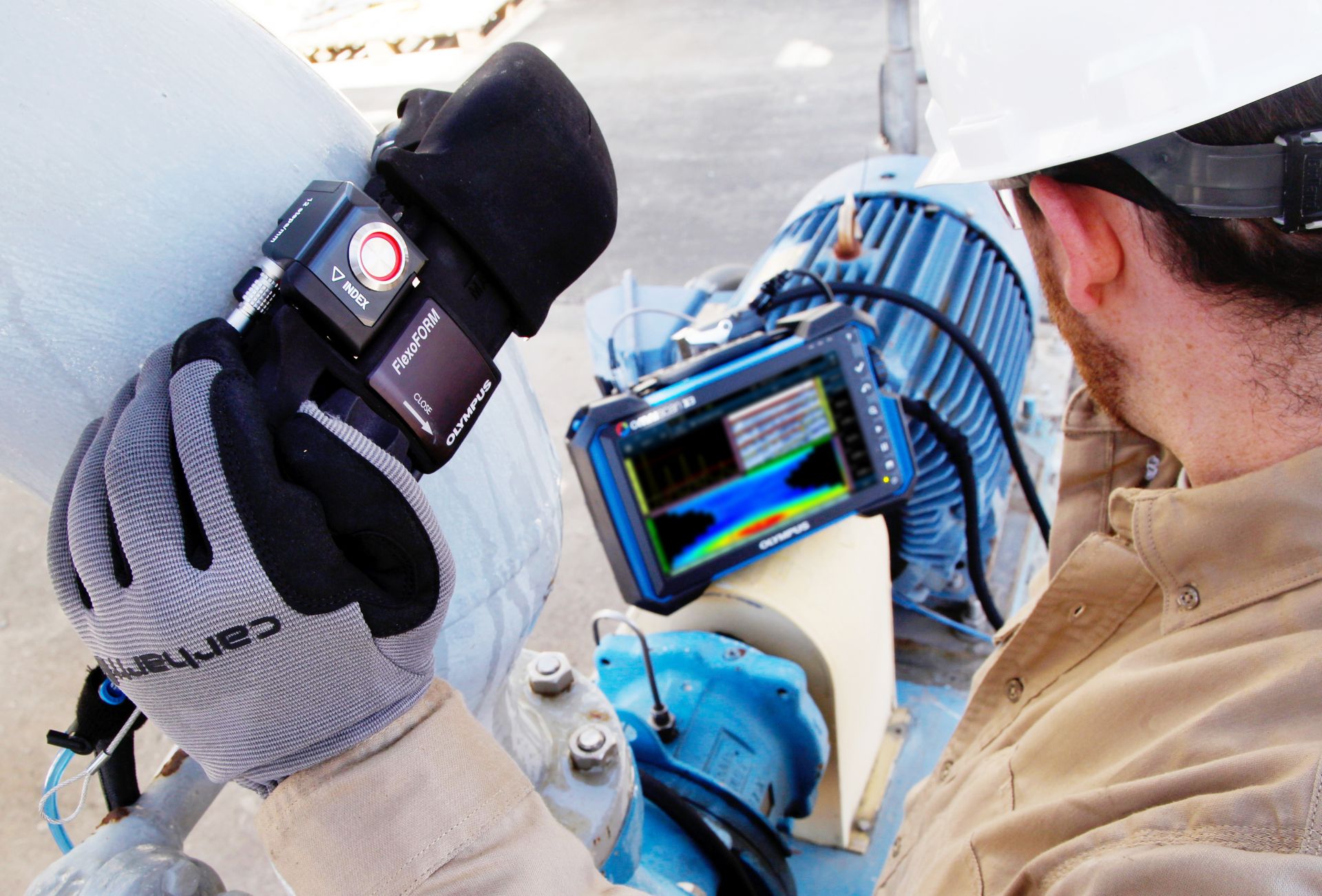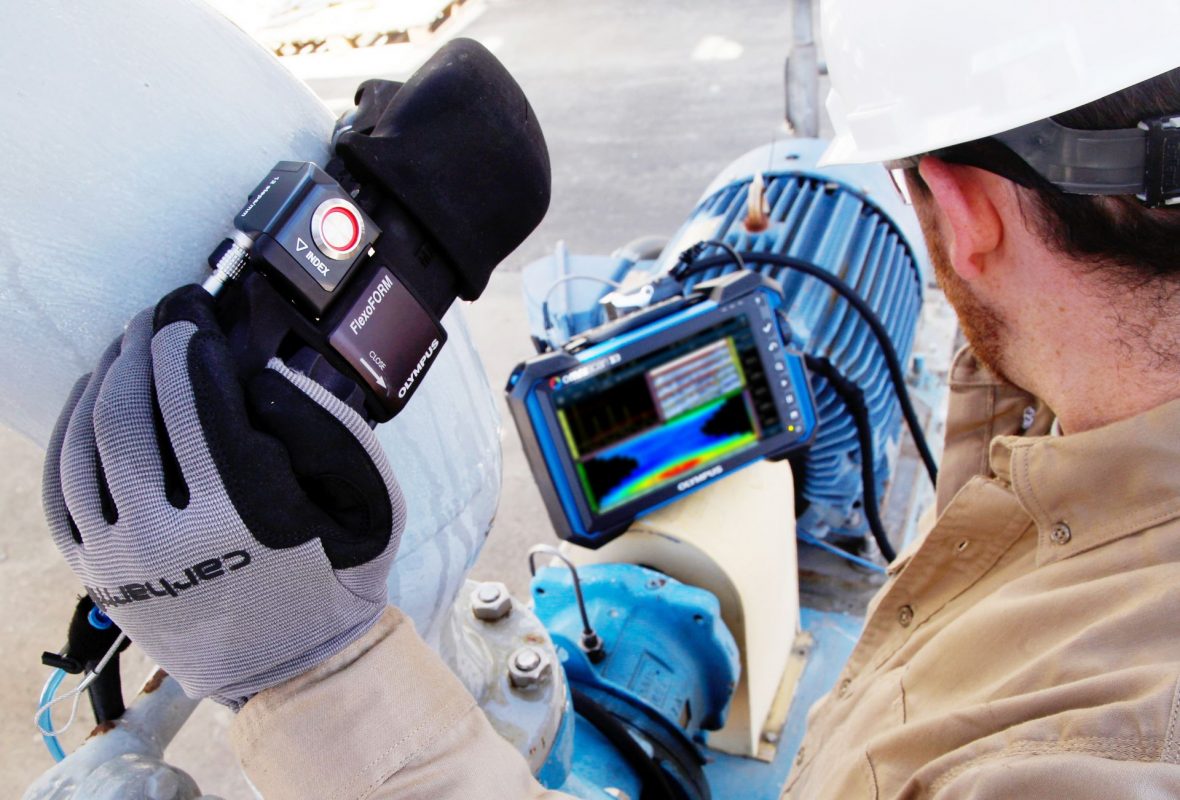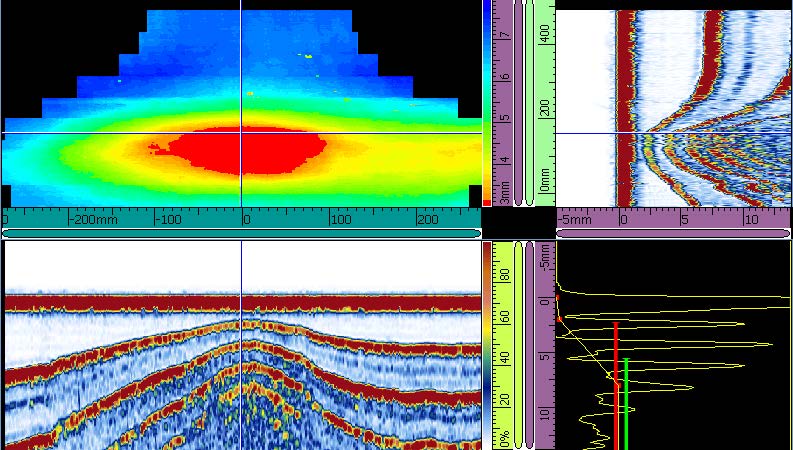 High resolution data
The scanner is designed to be used with OmniScan® MX2 nice Production to detect and measure damage or irregularities such as remaining pipe thickness, pitting corrosion or delamination in the pipe wall. High resolution data combined with various display modes on the device or on a computer (needs OmniPC™ ) provides a clear picture of the condition of the elbows for easy and accurate interpretation than.
The scan and data axes are position coded and can be changed using a button on the scanner to change the data position easily.
The magnetic wheel holds the sweeper firmly to the pipe surface, while the foam gasket makes contact with the curved surface and holds the water column inside.
The use of the water column as a buffer makes it easy for the surface to fit both convex and concave faces on curved pipes, and the instrument and software on OmniScan synchronize the surface data with the measured thickness.
Different wedges are designed to accommodate different pipe diameters. Attach the appropriate probe and wedge to the scanner and you're ready to go.
Longitudinal Scanning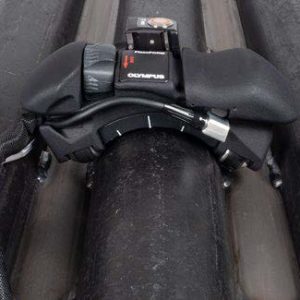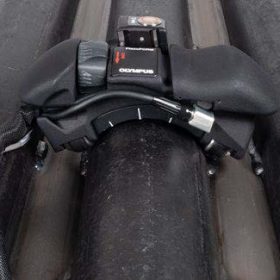 This tube scan configuration is useful when inspecting small tubes or when the area to be scanned is concentrated in one area of the tube (bottom and top). The FlexoFORM elbow scanner, when used for longitudinal scanning, increases inspection speed by dozens of times.
Sweep small elbow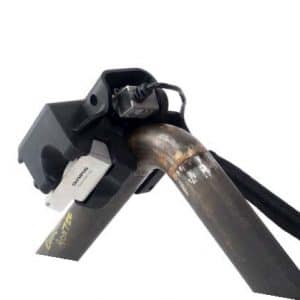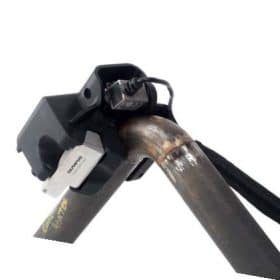 Semi-automatic wedges designed to fit small pipes 101 mm (4.5 in) or more. In manual scan mode, the outside area (outside curvature) of elbows up to 1.3 in. OD to 4 in. OD or tube longitudinal scan to obtain C-scans encoded images. The wedges SFA1-SMALL For small tubes that need to be combined with Mini-Wheel™ encoder.
Auto Scan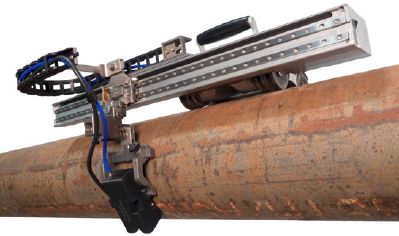 In some applications where it is necessary to scan the pipe along the tube instead of around the pipe, the SFA1-AUTO wedge is suitable automatic scanning for pipes from 220mm (8.625 in.) OD or higher.
Ordering information/Ordering info
| | | |
| --- | --- | --- |
| Code | Product's name | Described description |
| Q7500062 | FlexoFORM | FlexoFORM package with probe and one (1) SFA1 water wedge for 8,625 in. outside diameter. 5 m long cables compatible with current generation of OmniScan and Focus instruments. |
| Q7500063 | FlexoFORM-Kit | FlexoFORM package with probe and six (6) SFA1 water wedges (for 4.5 in., 6.625 in., 8.625 in., 10.75 in., 12.75 in., and 16 in. outside diameters). 5 m long cables compatible with current generation of OmniScan and Focus instruments. |
| Q3301202 | 7.5L64-64X7-FA1-P-5-OM | Flexible phased array probe, 7.5 MHz, 64 elements, 1 mm pitch, 7 mm elevation, FA1 case type for the FlexoFORM scanner (SFA1-FLEXO), SFA1-SMALL and SFA1-AUTO wedge series, 5 m cable length, and OmniScan connector . |
| Q7500067 | SFA1-Flexo-OD4.5 | Standard wedge for Flexible array probe FA1 and compatible with FlexoFORM scanner. The wedge is used to generate 0° Longitudinal Waves and features a curvature matching 4.5 inches (114 mm) Outside Diameter (OD) for inspection of extrados and intrados of pipe elbows. The wedge also features an 9 mm high water column allowing inspection of up to 30 mm thick carbon steel materials. |
| Q7500068 | SFA1-Flexo-OD5.563 | Standard wedge for Flexible array probe FA1 and compatible with FlexoFORM scanner. The wedge is used to generate 0° Longitudinal Waves and features a curvature matching 5.563 inches (141 mm) Outside Diameter (OD) for inspection of extrados and intrados of pipe elbows. The wedge also features an 9 mm high water column allowing inspection of up to 30 mm thick carbon steel materials. |
| Q7500069 | SFA1-Flexo-OD6.625 | Standard wedge for Flexible array probe FA1 and compatible with FlexoFORM scanner. The wedge is used to generate 0° Longitudinal Waves and features a curvature matching 6.625 inches (168 mm) Outside Diameter (OD) for inspection of extrados and intrados of pipe elbows. The wedge also features an 9 mm high water column allowing inspection of up to 30 mm thick carbon steel materials. |
| Q7500070 | SFA1-Flexo-OD8.625 | Standard wedge for Flexible array probe FA1 and compatible with FlexoFORM scanner. The wedge is used to generate 0° Longitudinal Waves and features a curvature matching 8,625 inches (219 mm) Outside Diameter (OD) for inspection of extrados and intrados of pipe elbows. The wedge also features an 9 mm high water column allowing inspection of up to 30 mm thick carbon steel materials. |
| Q7500071 | SFA1-Flexo-OD10.75 | Standard wedge for Flexible array probe FA1 and compatible with FlexoFORM scanner. The wedge is used to generate 0° Longitudinal Waves and features a curvature matching 8,625 inches (219 mm) Outside Diameter (OD) for inspection of extrados and intrados of pipe elbows. The wedge also features an 9 mm high water column allowing inspection of up to 30 mm thick carbon steel materials. |
| Q7500072 | SFA1-Flexo-OD12.75 | Standard wedge for Flexible array probe FA1 and compatible with FlexoFORM scanner. The wedge is used to generate 0° Longitudinal Waves and features a curvature matching 12.75 inches (324 mm) Outside Diameter (OD) for inspection of extrados and intrados of pipe elbows. The wedge also features an 9 mm high water column allowing inspection of up to 30 mm thick carbon steel materials. |
| Q7500073 | SFA1-Flexo-OD14 | Standard wedge for Flexible array probe FA1 and compatible with FlexoFORM scanner. The wedge is used to generate 0° Longitudinal Waves and features a curvature matching 14 inches (356 mm) Outside Diameter (OD) for inspection of extrados and intrados of pipe elbows. The wedge also features an 9 mm high water column allowing inspection of up to 30 mm thick carbon steel materials. |
| Q7500074 | SFA1-Flexo-OD16 | Standard wedge for Flexible array probe FA1 and compatible with FlexoFORM scanner. The wedge is used to generate 0° Longitudinal Waves and features a curvature matching 16 inches (406 mm) Outside Diameter (OD) for inspection of extrados and intrados of pipe elbows. The wedge also features an 9 mm high water column allowing inspection of up to 30 mm thick carbon steel materials. |
| Q7500075 | SFA1-Flexo-OD18 | Standard wedge for Flexible array probe FA1 and compatible with FlexoFORM scanner. The wedge is used to generate 0° Longitudinal Waves and features a curvature matching 18 inches (457 mm) Outside Diameter (OD) for inspection of extrados and intrados of pipe elbows. The wedge also features an 9 mm high water column allowing inspection of up to 30 mm thick carbon steel materials. |
| Q7500076 | SFA1-Flexo-OD20 | Standard wedge for Flexible array probe FA1 and compatible with FlexoFORM scanner. The wedge is used to generate 0° Longitudinal Waves and features a curvature matching 20 inches (508 mm) Outside Diameter (OD) for inspection of extrados and intrados of pipe elbows. The wedge also features an 9 mm high water column allowing inspection of up to 30 mm thick carbon steel materials. |
| Q7500077 | SFA1-Flexo-OD22 | Standard wedge for Flexible array probe FA1 and compatible with FlexoFORM scanner. The wedge is used to generate 0° Longitudinal Waves and features a curvature matching 22 inches (559 mm) Outside Diameter (OD) for inspection of extrados and intrados of pipe elbows. The wedge also features an 9 mm high water column allowing inspection of up to 30 mm thick carbon steel materials. |
| Q7500078 | SFA1-Flexo-OD24 | Standard wedge for Flexible array probe FA1 and compatible with FlexoFORM scanner. The wedge is used to generate 0° Longitudinal Waves and features a curvature matching 24 inches (610 mm) Outside Diameter (OD) for inspection of extrados and intrados of pipe elbows. The wedge also features an 9 mm high water column allowing inspection of up to 30 mm thick carbon steel materials. |
| Q7500079 | SFA1-Flexo-OD26 | Standard wedge for Flexible array probe FA1 and compatible with FlexoFORM scanner. The wedge is used to generate 0° Longitudinal Waves and features a curvature matching 26 inches (660 mm) Outside Diameter (OD) for inspection of extrados and intrados of pipe elbows. The wedge also features an 9 mm high water column allowing inspection of up to 30 mm thick carbon steel materials. |
| Q7500080 | SFA1-Flexo-OD28 | Standard wedge for Flexible array probe FA1 and compatible with FlexoFORM scanner. The wedge is used to generate 0° Longitudinal Waves and features a curvature matching 28 inches (711 mm) Outside Diameter (OD) for inspection of extrados and intrados of pipe elbows. The wedge also features an 9 mm high water column allowing inspection of up to 30 mm thick carbon steel materials. |
| Q7500081 | SFA1-Flexo-OD30 | Standard wedge for Flexible array probe FA1 and compatible with FlexoFORM scanner. The wedge is used to generate 0° Longitudinal Waves and features a curvature matching 30 inches (762 mm) Outside Diameter (OD) for inspection of extrados and intrados of pipe elbows. The wedge also features an 9 mm high water column allowing inspection of up to 30 mm thick carbon steel materials. |
| Q7500082 | SFA1-Flexo-OD32 | Standard wedge for Flexible array probe FA1 and compatible with FlexoFORM scanner. The wedge is used to generate 0° Longitudinal Waves and features a curvature matching 32 inches (813 mm) Outside Diameter (OD) for inspection of extrados and intrados of pipe elbows. The wedge also features an 9 mm high water column allowing inspection of up to 30 mm thick carbon steel materials. |
| Q7500083 | SFA1-Flexo-OD34 | Standard wedge for Flexible array probe FA1 and compatible with FlexoFORM scanner. The wedge is used to generate 0° Longitudinal Waves and features a curvature matching 34 inches (864 mm) Outside Diameter (OD) for inspection of extrados and intrados of pipe elbows. The wedge also features an 9 mm high water column allowing inspection of up to 30 mm thick carbon steel materials. |
| Q7500084 | SFA1-Flexo-OD36 | Standard wedge for Flexible array probe FA1 and compatible with FlexoFORM scanner. The wedge is used to generate 0° Longitudinal Waves and features a curvature matching 36 inches (914 mm) Outside Diameter (OD) for inspection of extrados and intrados of pipe elbows. The wedge also features an 9 mm high water column allowing inspection of up to 30 mm thick carbon steel materials. |
| Q7500085 | SFA1-Flexo-OD42 | Standard wedge for Flexible array probe FA1 and compatible with FlexoFORM scanner. The wedge is used to generate 0° Longitudinal Waves and features a curvature matching 42 inches (1067 mm) Outside Diameter (OD) for inspection of extrados and intrados of pipe elbows. The wedge also features an 9 mm high water column allowing inspection of up to 30 mm thick carbon steel materials. |
| Q7500086 | SFA1-Flexo-OD48 | Standard wedge for Flexible array probe FA1 and compatible with FlexoFORM scanner. The wedge is used to generate 0° Longitudinal Waves and features a curvature matching 48 inches (1219 mm) Outside Diameter (OD) for inspection of extrados and intrados of pipe elbows. The wedge also features an 9 mm high water column allowing inspection of up to 30 mm thick carbon steel materials. |
| Q7500087 | SFA1-Flexo-Flat | Standard wedge for Flexible array probe FA1 and compatible with FlexoFORM scanner. The wedge is used to generate 0° Longitudinal Waves and features an 9 mm high water column allowing inspection of up to 30 mm thick carbon steel materials. |
| Q7790124 | SFA1-SMALL-KIT-FULL | Kit of 7x SFA1-SMALL water wedge probe holders, 1x FA1 flexible phased array probe and 1x ENC1 mini-wheel encoder with magnetic wheel. Wedge diameters are compatible with 1.3, 1.66, 1.9, 2.375, 2.875, 3.5 and 4 inches outside diameter pipes and elbow extrados. The flexible PA probe is 7.5MHz, 64 elements, 7mm elevation, 1mm pitch, for a total apperture length of 64mm. The kit also includes irrigation tube and cable protection sleeve. Cable lenghts are 5m. The probe and encoder are compatible with current generation of phased array instruments (Lemo and OM connectors). All packaged in hard carrying case. |
| Q7790125 | SFA1-SMALL-KIT | Kit of 7x SFA1-SMALL water wedge probe holders. Wedge diameters are compatible with 1.3, 1.66, 1.9, 2.375, 2.875, 3.5 and 4 inches outside diameter pipes and elbow extrados. The kit also includes irrigation tube and cable protection sleeve. Cable lenghts are 5m. All packaged in hard carrying case. |
| Q7500088 | SFA1-Auto-OD8.625 | Standard wedge for Flexible array probe FA1 and compatible with MapROVER and SteerROVER scanners. The wedge is used to generate 0° Longitudinal Waves and features a curvature matching 8,625 inches (219 mm) Outside Diameter (OD) for inspection of extrados and intrados of pipe elbows. The wedge also features an 9 mm high water column allowing inspection of up to 30 mm thick carbon steel materials. Not Compatible with FlexoFORM scanner. |
| Q7500089 | SFA1-Auto-OD10.75 | Standard wedge for Flexible array probe FA1 and compatible with MapROVER and SteerROVER scanners. The wedge is used to generate 0° Longitudinal Waves and features a curvature matching 10.75 inches (273 mm) Outside Diameter (OD) for inspection of pipes. The wedge also features an 9 mm high water column allowing inspection of up to 30 mm thick carbon steel materials. Not Compatible with FlexoFORM scanner. |
| Q7500090 | SFA1-Auto-OD12.75 | Standard wedge for Flexible array probe FA1 and compatible with MapROVER and SteerROVER scanners. The wedge is used to generate 0° Longitudinal Waves and features a curvature matching 12.75 inches (324 mm) Outside Diameter (OD) for inspection of pipes. The wedge also features an 9 mm high water column allowing inspection of up to 30 mm thick carbon steel materials. Not Compatible with FlexoFORM scanner. |
| Q7500091 | SFA1-Auto-OD14 | Standard wedge for Flexible array probe FA1 and compatible with MapROVER and SteerROVER scanners. The wedge is used to generate 0° Longitudinal Waves and features a curvature matching 14 inches (356 mm) Outside Diameter (OD) for inspection of pipes. The wedge also features an 9 mm high water column allowing inspection of up to 30 mm thick carbon steel materials. Not Compatible with FlexoFORM scanner. |
| Q7500092 | SFA1-Auto-OD16 | Standard wedge for Flexible array probe FA1 and compatible with MapROVER and SteerROVER scanners. The wedge is used to generate 0° Longitudinal Waves and features a curvature matching 16 inches (406 mm) Outside Diameter (OD) for inspection of pipes. The wedge also features an 9 mm high water column allowing inspection of up to 30 mm thick carbon steel materials. Not Compatible with FlexoFORM scanner. |
| Q7500093 | SFA1-Auto-OD18 | Standard wedge for Flexible array probe FA1 and compatible with MapROVER and SteerROVER scanners. The wedge is used to generate 0° Longitudinal Waves and features a curvature matching 18 inches (457 mm) Outside Diameter (OD) for inspection of pipes. The wedge also features an 9 mm high water column allowing inspection of up to 30 mm thick carbon steel materials. Not Compatible with FlexoFORM scanner. |
| Q7500094 | SFA1-Auto-OD20 | Standard wedge for Flexible array probe FA1 and compatible with MapROVER and SteerROVER scanners. The wedge is used to generate 0° Longitudinal Waves and features a curvature matching 20 inches (508 mm) Outside Diameter (OD) for inspection of pipes. The wedge also features an 9 mm high water column allowing inspection of up to 30 mm thick carbon steel materials. Not Compatible with FlexoFORM scanner. |
| Q7500095 | SFA1-Auto-OD22 | Standard wedge for Flexible array probe FA1 and compatible with MapROVER and SteerROVER scanners. The wedge is used to generate 0° Longitudinal Waves and features a curvature matching 22 inches (559 mm) Outside Diameter (OD) for inspection of pipes. The wedge also features an 9 mm high water column allowing inspection of up to 30 mm thick carbon steel materials. Not Compatible with FlexoFORM scanner. |
| Q7500096 | SFA1-Auto-OD24 | Standard wedge for Flexible array probe FA1 and compatible with MapROVER and SteerROVER scanners. The wedge is used to generate 0° Longitudinal Waves and features a curvature matching 24 inches (610 mm) Outside Diameter (OD) for inspection of pipes. The wedge also features an 9 mm high water column allowing inspection of up to 30 mm thick carbon steel materials. Not Compatible with FlexoFORM scanner. |
| Q7500097 | SFA1-Auto-OD26 | Standard wedge for Flexible array probe FA1 and compatible with MapROVER and SteerROVER scanners. The wedge is used to generate 0° Longitudinal Waves and features a curvature matching 26 inches (660 mm) Outside Diameter (OD) for inspection of pipes. The wedge also features an 9 mm high water column allowing inspection of up to 30 mm thick carbon steel materials. Not Compatible with FlexoFORM scanner. |
| Q7500098 | SFA1-Auto-OD28 | Standard wedge for Flexible array probe FA1 and compatible with MapROVER and SteerROVER scanners. The wedge is used to generate 0° Longitudinal Waves and features a curvature matching 28 inches (711 mm) Outside Diameter (OD) for inspection of pipes. The wedge also features an 9 mm high water column allowing inspection of up to 30 mm thick carbon steel materials. Not Compatible with FlexoFORM scanner. |
| Q7500099 | SFA1-Auto-OD30 | Standard wedge for Flexible array probe FA1 and compatible with MapROVER and SteerROVER scanners. The wedge is used to generate 0° Longitudinal Waves and features a curvature matching 30 inches (762 mm) Outside Diameter (OD) for inspection of pipes. The wedge also features an 9 mm high water column allowing inspection of up to 30 mm thick carbon steel materials. Not Compatible with FlexoFORM scanner. |
| Q7500100 | SFA1-Auto-OD32 | Standard wedge for Flexible array probe FA1 and compatible with MapROVER and SteerROVER scanners. The wedge is used to generate 0° Longitudinal Waves and features a curvature matching 32 inches (813 mm) Outside Diameter (OD) for inspection of pipes. The wedge also features an 9 mm high water column allowing inspection of up to 30 mm thick carbon steel materials. Not Compatible with FlexoFORM scanner. |
| Q7500101 | SFA1-Auto-OD34 | Standard wedge for Flexible array probe FA1 and compatible with MapROVER and SteerROVER scanners. The wedge is used to generate 0° Longitudinal Waves and features a curvature matching 34 inches (864 mm) Outside Diameter (OD) for inspection of pipes. The wedge also features an 9 mm high water column allowing inspection of up to 30 mm thick carbon steel materials. Not Compatible with FlexoFORM scanner. |
| Q7500102 | SFA1-Auto-OD36 | Standard wedge for Flexible array probe FA1 and compatible with MapROVER and SteerROVER scanners. The wedge is used to generate 0° Longitudinal Waves and features a curvature matching 36 inches (914 mm) Outside Diameter (OD) for inspection of pipes. The wedge also features an 9 mm high water column allowing inspection of up to 30 mm thick carbon steel materials. Not Compatible with FlexoFORM scanner. |
| Q75000103 | SFA1-Auto-OD42 | Standard wedge for Flexible array probe FA1 and compatible with MapROVER and SteerROVER scanners. The wedge is used to generate 0° Longitudinal Waves and features a curvature matching 42 inches (1067 mm) Outside Diameter (OD) for inspection of pipes. The wedge also features an 9 mm high water column allowing inspection of up to 30 mm thick carbon steel materials. Not Compatible with FlexoFORM scanner. |
| Q7500104 | SFA1-Auto-OD48 | Standard wedge for Flexible array probe FA1 and compatible with MapROVER and SteerROVER scanners. The wedge is used to generate 0° Longitudinal Waves and features a curvature matching 48 inches (1219 mm) Outside Diameter (OD) for inspection of pipes. The wedge also features an 9 mm high water column allowing inspection of up to 30 mm thick carbon steel materials. Not Compatible with FlexoFORM scanner. |
| Q7500105 | SFA1-Auto-Flat | Standard wedge for Flexible array probe FA1 and compatible with MapROVER and SteerROVER scanners. The wedge is used to generate 0° Longitudinal Waves and features an 9 mm high water column allowing inspection of up to 30 mm thick carbon steel materials. Not compatible with FlexoFORM scanner. |
| Q7500106 | SFA1-Small-OD1.3 | Standard wedge for Flexible array probe FA1 for manual inspection of small pipes or elbow extrados (not compatible with elbow intrados). The wedge is used to generate 0° Longitudinal Waves and features a curvature matching 1,315 inches (33.4 mm) Outside Diameter (OD) for inspection of elbow extrados. The wedge also features an 11 mm high water column inspection of up to 35 mm thick carbon steel materials. Compatible with the Mini-Wheel encoder. Not compatible with FlexoFORM scanner. |
| Q7500107 | SFA1-Small-OD1.66 | Standard wedge for Flexible array probe FA1 for manual inspection of small pipes or elbow extrados (not compatible with elbow intrados). The wedge is used to generate 0° Longitudinal Waves and features a curvature matching 1.66 inches (42 mm) Outside Diameter (OD) for inspection of elbow extrados. The wedge also features an 11 mm high water column inspection of up to 35 mm thick carbon steel materials. Compatible with the Mini-Wheel encoder. Not compatible with FlexoFORM scanner. |
| Q7500108 | SFA1-Small-OD1.9 | Standard wedge for Flexible array probe FA1 for manual inspection of small pipes or elbow extrados (not compatible with elbow intrados). The wedge is used to generate 0° Longitudinal Waves and features a curvature matching 1.9 inches (48 mm) Outside Diameter (OD) for inspection of elbow extrados. The wedge also features an 11 mm high water column inspection of up to 35 mm thick carbon steel materials. Compatible with the Mini-Wheel encoder. Not compatible with FlexoFORM scanner. |
| Q7500109 | SFA1-Small-OD2.375 | Standard wedge for Flexible array probe FA1 for manual inspection of small pipes or elbow extrados (not compatible with elbow intrados). The wedge is used to generate 0° Longitudinal Waves and features a curvature matching 2.375 inches (60 mm) Outside Diameter (OD) for inspection of elbow extrados. The wedge also features an 11 mm high water column inspection of up to 35 mm thick carbon steel materials. Compatible with the Mini-Wheel encoder. Not compatible with FlexoFORM scanner. |
| Q7500110 | SFA1-Small-OD2.875 | Standard wedge for Flexible array probe FA1 for manual inspection of small pipes or elbow extrados (not compatible with elbow intrados). The wedge is used to generate 0° Longitudinal Waves and features a curvature matching 2.875 inches (73 mm) Outside Diameter (OD) for inspection of elbow extrados. The wedge also features an 11 mm high water column inspection of up to 35 mm thick carbon steel materials. Compatible with the Mini-Wheel encoder. Not compatible with FlexoFORM scanner. |
| Q7500111 | SFA1-Small-OD3.5 | Standard wedge for Flexible array probe FA1 for manual inspection of small pipes or elbow extrados (not compatible with elbow intrados). The wedge is used to generate 0° Longitudinal Waves and features a curvature matching 3.5 inches (89 mm) Outside Diameter (OD) for inspection of elbow extrados. The wedge also features an 11 mm high water column inspection of up to 35 mm thick carbon steel materials. Compatible with the Mini-Wheel encoder. Not compatible with FlexoFORM scanner. |
| Q7500112 | SFA1-Small-OD4 | Standard wedge for Flexible array probe FA1 for manual inspection of small pipes or elbow extrados (not compatible with elbow intrados). The wedge is used to generate 0° Longitudinal Waves and features a curvature matching 4 inches (101.6 mm) Outside Diameter (OD) for inspection of elbow extrados. The wedge also features an 11 mm high water column inspection of up to 35 mm thick carbon steel materials. Compatible with the Mini-Wheel encoder. Not compatible with FlexoFORM scanner. |