Importance of weld inspection
Quality of Weld becomes increasingly important. The final product is expected to be of high quality and free of unexpected breakdowns. Incidents with major social and financial consequences can often be avoided by the application of proper test technique.
Inspecting welds and detecting defects in the early stages of production can reduce costs and extend the life of components by detecting and correcting defects early. Non-destructive testing The use of eddy currents is a reliable, fast and inexpensive way to perform maintenance and ensure the safety of the building. Eddy current device of Olympus renowned for their durability and accuracy as well as ease of use, while our customer service and technical support ensure that our customers get the best out of their equipment.
Introduction to weld inspection with ET
Welds are present in many locations in various structures such as bridges, pipelines and turbine. In load-bearing structures, cracks can form and grow during the service life of the weld. To help ensure the safety of the infrastructure, welds must be regularly inspected on site for cracks or defects. Olympus Eddy Current Tester (ECT) is designed to facilitate testing using NORTEC 600 become easy and fast.
Difficulties in inspecting in-service welds
Conventional weld inspection methods, such as Penetration test, can be used to detect cracks in welds, but any coatings or paints on welds must be removed and then repainted after inspection. Eddy currents are an effective tool for surface crack detection. In most cases, the weld is not completely flat and there may be bumps on the surface of the weld. This complicates testing because the ECT probe cannot maintain consistent contact with the surface and causes the Lift-off signal characteristic of eddy current testing. However, the use of proper inspection technique in conjunction with the right eddy current tools will enhance inspection reliability.
Welding inspection solution using ET . test KIT
Trong kiểm tra hàn, quan trọng nhất là phát hiện các khuyết tật ăn với bề mặt. Đối với vật liệu có từ tính như thép carbon, kiểm tra từ tính thường được sử dụng. ECT có thể được sử dụng cho kiểm tra vết nứt trên bề mặt hoặc gần bề mặt các mối hàn, thường là kiểm tra trong quá trình bảo dưỡng bảo trì và kiểm tra an toàn thay thế cho kiểm tra từ tính.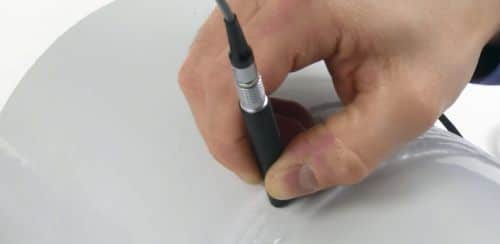 The ECT method can be used to search for fatigue cracks in both ferromagnetic and non-ferromagnetic materials, moreover, eddy current testing offers several advantages:
No chemicals needed, osmotic agents, environmentally friendly, no chemicals.
Can be inspected in hard to reach or inaccessible locations with conventional methods
There is no need to remove the coating nor the oxide layer on the surface to check for cracks.
Highly sensitive, can search for very small cracks and is independent of the direction of the cracks.
Ideal for replacement MPI
Evaluation of the length and depth of the crack
Data reporting and data storage
Easier to deploy in applications requiring access ropes (Rope Access Ready)
Limitations when inspecting welds using ECT method:
Initial equipment has a larger investment compared to PT and MT
Only used for welds with relatively flat surfaces, automatic welds, etc.
Highly influenced by weld surface conditions.
Olympus eddy current weld inspection kit designed to work with NORTEC 600 and can help inspect the weld without removing the paint. Using the right test technique along with the features supported on the instrument and transducer, the lift-off signal will be minimized. The NORTEC 600 also makes it easy to determine the length and depth of cracks in the weld.
The ECT weld inspection KIT includes the following items:
Product
U8
Product code
Describe
Eddy current tester N600
Choose from many configurations
N600
NORTEC 600 eddy current flaw detector (basic)
Welding test kit
U8670016
NEC-8196 (L cho phiên bản Powerlink)

KIT for testing welds using ECT:

WLD-5-63: Small size ECT probe, suitable for checking positions near the cap, weld leg.
WLD-8-55: Large size ECT probe, suitable for quick inspection of weld surface.
NEC-2236: Coating thickness measuring probe.
SRSM-51020S/WLD: Steel model with 0.5mm, 1.0mm and 2.0mm deep EDM marks and different thickness plastic plate.
WLD-SAMPLE: Sample of the weld with a defect that is an EDM mark.
CN16-4L-6: Transducer and device connection cable.

Strap
U8140055
EP4/ONLY
EPOCH series chest harness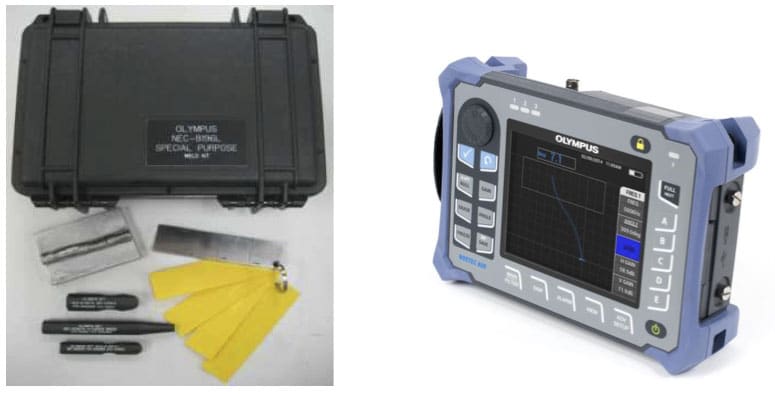 Welding probe order code
| | | | | | | | |
| --- | --- | --- | --- | --- | --- | --- | --- |
| Type | Series | Frequency | Tip Diameter | Overall Length | Connector | Part ID | Item Number |
| Weld Probe | Straight Weld probe | 100 kHz – 600 kHz | 5.0 mm (0.196 in.) | 6.1 mm (2.4 in.) | 4-LEMO Battery (CN16-4L-6) | WLD-5-63 | U8690018 |
| Weld Probe | Straight Weld probe | 100 kHz – 600 kHz | 8.0 mm (0.314 in.) | 5.5 mm (2.16 in.) | 4-LEMO Battery (CN16-4L-6) | WLD-8-55 | U8690019 |
| Weld Probe | Right Angle Weld Probe | 100 kHz – 600 kHz | 5.0 mm (0.196 in.) | 5.0 mm (1.96 in.) | 4-LEMO Battery (CN16-4L-6) | WLD901-5-50 | U8690022 |
| Weld Probe | Right Angle Weld Probe | 100 kHz – 600 kHz | 8.0 mm (0.314 in.) | 5.0 mm (1.96 in.) | 4-LEMO Battery (CN16-4L-6) | WLD901-8-50 | U8690023 |
| Weld Probe | Paint Thickness Probe | 100 kHz – 600 kHz | 6.35 mm (0.25 in.) | 10.1 mm (4.0 in.) | 4-LEMO Battery (CN16-4L-6) | NEC-2236 | U8690035 |
| Weld Probe | Straight Weld probe | 100 kHz – 600 kHz | 5.0 mm (0.196 in.) | 6.1 mm (2.4 in.) | Powerlink™ / 7-Battery LEMO | 9403362 | U8629270 |
| Weld Probe | Straight Weld probe | 100 kHz – 600 kHz | 8.0 mm (0.314 in.) | 5.5 mm (2.16 in.) | Powerlink™ / 7-Battery LEMO | 9403356 | U8690033 |
| Weld Probe | Right Angle Weld Probe | 100 kHz – 600 kHz | 5.0 mm (0.196 in.) | 5.0 mm (1.96 in.) | Powerlink™ / 7-Battery LEMO | 9403373 | U8629539 |
| Weld Probe | Right Angle Weld Probe | 100 kHz – 600 kHz | 8.0 mm (0.314 in.) | 5.0 mm (1.96 in.) | Powerlink™ / 7-Battery LEMO | 9403374 | U8690038 |
| Weld Probe | NECP-1152 SS W/45° Probe Tip | 100 kHz – 1 MHz | 7.9 mm (0.312 in.) | 14.0 mm (5.5 in.) | Powerlink™ / 7-Battery LEMO | 9231109 | U8629540 |
| Weld Probe | SPO-4376 Straight Weld Probe | 100 kHz – 1 MHz | 8.3 mm (0.330 in.) | 8.2 mm (3.25 in.) | Powerlink™ / 7-Battery LEMO | SPO-4376L | U8629541 |
| Weld Probe | Paint Thickness Probe | 100 kHz – 600 kHz | 6.35 mm (0.25 in.) | 10.1 mm (4.0 in.) | Powerlink™ / 7-Battery LEMO | 9403361 | U8629269 |
| Weld Probe | Straight Weld probe | 100 kHz – 600 kHz | 5.0 mm (0.196 in.) | 6.1 mm (2.4 in.) | Triax Fischer/LEMO | WLD-5-63-TF | U8690046 |
| Weld Probe | Straight Weld probe | 100 kHz – 600 kHz | 8.0 mm (0.314 in.) | 5.5 mm (2.16 in.) | Triax Fischer/LEMO | WLD-8-55-TF | U8690047 |
| Weld Probe | Right Angle Weld Probe | 100 kHz – 600 kHz | 5.0 mm (0.196 in.) | 5.0 mm (1.96 in.) | Triax Fischer/LEMO | WLD901-5-50-TF | U8629542 |
| Weld Probe | Right Angle Weld Probe | 100 kHz – 600 kHz | 8.0 mm (0.314 in.) | 5.0 mm (1.96 in.) | Triax Fischer/LEMO | WLD901-8-50-TF | U8690048 |
| Weld Probe | NECP-1152 SS W/45° Probe Tip | 100 kHz – 1 MHz | 7.9 mm (0.312 in.) | 14.0 mm (5.5 in.) | Triax Fischer/LEMO | 9231110 | U8629184 |
| Weld Probe | SPO-4376 Straight Weld Probe | 100 kHz – 1 MHz | 8.3 mm (0.330 in.) | 8.2 mm (3.25 in.) | Triax Fischer/LEMO | 9218631 | U8629543 |
| Weld Probe | Paint Thickness Probe | 100 kHz – 600 kHz | 6.35 mm (0.25 in.) | 10.1 mm (4.0 in.) | Triax Fischer/LEMO | NEC-2236-TF | U8629544 |
Related products